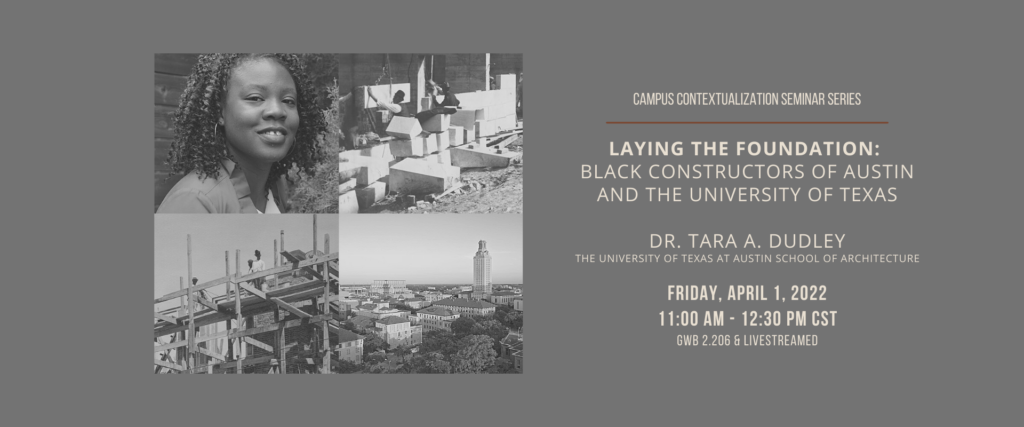 Held April 1, 2022 — watch event video here:
Laying the Foundation: Black Constructors of Austin and The University of Texas
Tara A. Dudley, PhD
Dr. Tara A. Dudley, Assistant Professor in The University of Texas at Austin School of Architecture, teaches courses in architectural history, interior design history, and historic preservation. Her work reflects an interdisciplinary approach to the study of cultural resources with a focus on nineteenth-century American design, African American architectural history, historic preservation, and material culture. Her current research projects focus on the antebellum and Reconstruction eras in the US South, including Texas, and encompass illuminating the contributions of African American builders and architects to the American built environment.
In tandem with her role as a member of the Contextualization and Commemoration Projects' faculty research team, Dr. Dudley has turned her focus to revealing the contributions of Black Austinites to the physical development and construction of UT Austin's campus. During the Reconstruction era, a significant number of Black male residents of Austin were engaged in professions in the building trades—as carpenters, masons, blacksmiths. Many of these skilled individuals had undoubtedly learned and practiced their trades during enslavement. Although not an institution established by slavery per se, legacies of slavery were apparent in UT Austin's built environment over the course of its construction campaigns in the 1880s, 1910s, and 1930s. Dr. Dudley's talk placed this history in context, highlighting the many individuals whose labor literally created a foundation for the UT Austin campus, despite the circumstances of Jim Crow segregation that denied them admission to the university and fostered a racially-charged work environment, of which the "For Whites" signage at the construction site of the Old Library Building (present-day Battle Hall) is just one example. These investigations foster efforts to repopulate the canon of architectural history with Black voices and hands. More specifically, they engage a methodology to reinsert into the history of Austin the Black builders, craftsmen, and laborers whose agency was instrumental to the development of the university's campus plan and growth.
Dr. Dudley is the author of Building Antebellum New Orleans: Free People of Color and Their Influence (UT Press, 2021), winner of the Association of American Publishers 2022 Prose Award in Architecture & Urban Planning. She received her BA in Art History from Princeton University and her master's (Historic Preservation) and doctorate (Architectural History) degrees from UT Austin. She served as a senior architectural historian for Austin-based preservation consulting firm HHM & Associates, Inc. for two decades and continues to consult on local, regional, and national preservation projects. Dr. Dudley is well-versed in the integration of scholarly inquiry and professional practice and has expertise in the preparation of diverse planning and interpretive documents for historic sites and governmental agencies. She is the current chair of the Texas State Board of Review, the committee that advises the State Historic Preservation Officer regarding nominations to the National Register of Historic Places. Her in-progress works include a biography on the life and work of African-American architect John Saunders Chase and a co-edited volume that addresses the past in the present in relation to slavery and oppression in the built environment of historic sites.
_________________________
The new Campus Contextualization Seminar series explores histories of race, gender, and power at The University of Texas at Austin. Speakers present research and new frameworks for analysis concerning the ways in which US universities continue to address historic exclusion and inequalities and serve as key sites for engendering equity, inclusion, and social change.