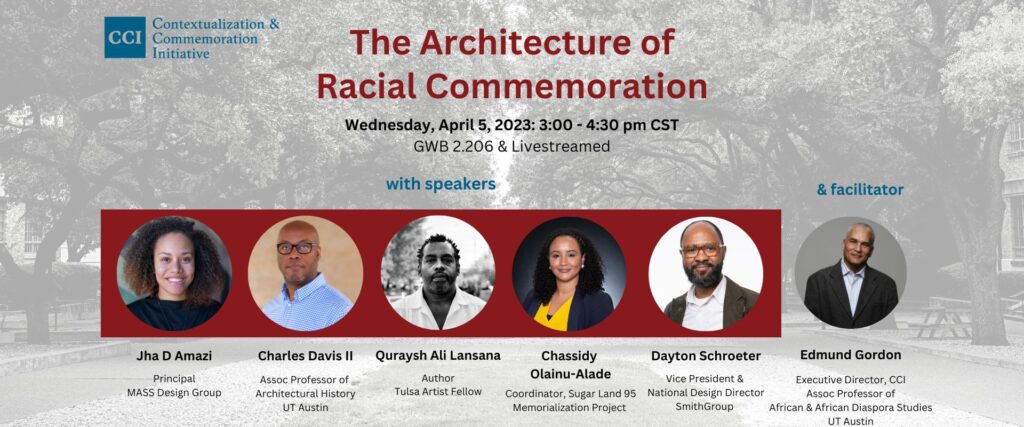 This event was held on April 5, 2023. Watch the event video here:
The Architecture of Racial Commemoration
Featuring speakers
Jha D Amazi, Principal, MASS Design Group
Charles Davis II, PhD, Associate Professor of Architecture, UT-Austin
Quraysh Ali Lansana, Author & Tulsa Artist Fellow
Chassidy Olainu-Alade, Coordinator Community and Civic Engagement, Sugar Land 95 Memorialization Project
Dayton Schroeter, Vice President and National Design Director, SmithGroup
And facilitated by Edmund Gordon, PhD, Associate Professor of African and African Diaspora Studies and Executive Director, Contextualization and Commemoration Initiative (CCI), UT-Austin
Wednesday, April 5, 3:00 – 4:30 pm CST
Leading scholars and architectural practitioners of racial commemoration discussed their current projects and the successes and challenges of doing commemorative work.
Jha D Amazi, Principal, MASS Design Group, is the Director of the Public Memory and Memorials Lab, an initiative that advances research, training, and built work around a central thesis: spatializing memory can heal us and inspire collective action for generations to come. Projects in the Lab's portfolio include the Sugar Land 95 Cemetery Revitalization Project, Harris County Remembrance Project, and several initiatives with the National Trust for Historic Preservation. At MASS, Jha D has also contributed to the Gun Violence Memorial Project, Franklin Park Action Plan, and the Louise B. Miller Memorial and Freedom Garden at Gallaudet University. Previously, she worked as a Designer at Sasaki Associates. She received her Bachelor of Science in Architecture from Northeastern University and her Master of Architecture I from the University of Pennsylvania. Prior to pursuing her graduate degree, she taught design studios at the Boston Architectural College. Outside of architecture, Jha D is a spoken word artist, event producer, and SpaceMaker for the LGBTQ+ communities of color.
Dr. Charles L. Davis II is an associate professor of architectural history and criticism at UT-Austin's School of Architecture. He received his PhD in architecture from the University of Pennsylvania and an M.Arch and B.P.S. from the University at Buffalo. His academic research excavates the role of racial identity and race thinking in architectural history and contemporary design culture. He has published articles and essays in Architectural Research Quarterly, Journal of the Society of Architectural Historians, Harvard Design Magazine, Log, Aggregate, Append-x and VIA and is currently working on two book projects. The sole-authored monograph, "Black by Design: A Social History of Black Architectural Modernity," recovers the overlooked contributions of black artists and architects in shaping the built environment from the Harlem Renaissance to Black Lives Matter and argues that Black social movements have radically shaped the built environment by bringing together licensed architects, patrons, activists, and artists to achieve a social mission of betterment and equality in the face of anti-Black racism. His co-edited volume examines the racial underpinnings of the historiography of nineteenth-century American Architecture, critiquing the modernist bent of past history surveys to recover the contentious debates of American nationalism shaping the built environment.
Quraysh Ali Lansana is author of twenty books in poetry, nonfiction, and children's literature. Lansana is currently a Tulsa Artist Fellow and Lecturer in English at the University of Tulsa and a Lecturer in Africana Studies at Oklahoma State University-Tulsa, where he also served as Director of the Center for Truth, Racial Healing, & Transformation. Lansana is Executive Producer of KOSU/NPR's Focus: Black Oklahoma monthly radio program, a recipient of a 2022 duPont-Columbia Award, a 2022 NAACP Image Award, and a 2022 Oklahoma Society of Professional Journalists Award as well as a Peabody Award nominee. Lansana is also the recipient of a 2022 Emmy Award, a 2022 Oklahoma Association of Broadcasters Award, and a 2022 National Educational Telecommunications Association Public Media Award for his roles as host and consultant for the OETA (PBS) documentary film "Tulsa Race Massacre: 100 Years Later." He is a three-time International Regional Magazine Award-winning Contributing Editor for Oklahoma Today magazine. A former faculty member of both the Writing Program of the School of the Art Institute of Chicago and the Drama Division of The Juilliard School, Lansana served as Director of the Gwendolyn Brooks Center for Black Literature and Creative Writing at Chicago State University from 2002-2012 and was Associate Professor of English/Creative Writing there until 2014. His most recent books include Opal's Greenwood Oasis, the skin of dreams: new and collected poems, 1995-2018, The Whiskey of Our Discontent: Gwendolyn Brooks as Conscience & Change Agent) and The BreakBeat Poets: New American Poetry in the Age of Hip Hop. Forthcoming titles include Killing the Negative: A Poetic Intervention, with Joel Daniel Phillips, a children's biography of Ralph Ellison, and a series of books on the Black Rodeo. Lansana's work appears in Best American Poetry 2019. He is a founding member of Tri-City Collective, serves on the Board of Directors of the Philbrook Museum of Art and Oklahoma Humanities, is a Curatorial Scholar for The Thomas Gilcrease Institute of American History and Art, and is a Curatorial Board Co-Chair for the Ragdale Foundation. He is a Cave Canem Fellow and a member of the first cohort of the Culture of Health Leadership for Racial Healing Fellowship.
Chassidy Olainu-Alade is the Coordinator for Community and Civic Engagement in the Fort Bend Independent School District, where she leads the Sugar Land 95 Memorial Project. She has been instrumental in the adoption of curriculum standards and development of resources to support teaching about the convict leasing system and the period of Reconstruction. With research that was focused on African American Studies and History of American South, she holds a bachelor's degree in History and Secondary Education from Louisiana State University as well as a M.ED in Secondary Social Studies from Texas Southern University. Olainu-Alade served as a classroom teacher of 8th grade American History for 7 years before becoming an instructional leader for Secondary Social Studies and, after receiving the 2021 Texas Social Studies Supervisor of the Year award, was named the 2022 National Social Studies Leader of the Year by the National Social Studies Supervisors Association.
Dayton Schroeter is a Vice President and National Design Director at SmithGroup. He is an Architect, social activist, exhibition designer, and artist with over 20 years of experience championing 'Design Justice' advocacy. As a leader of the firm's Justice, Equity, Diversity, and Inclusion Committee, his charge is to lead design projects that address the systematic injustice that architecture and planning have perpetuated on historically disenfranchised communities of color. Leveraging his tenacious passion for design justice with authenticity and creativity, Schroeter is currently leading Antiracism efforts in design projects at all scales; including a new interpretive Master Plan for the Whitney Plantation, The National Slavery Museum at Lumpkins Slave Jail, The Virginia Museum of Fine Arts Expansion and Renovation project, an interpretive plan for 1315 Duke Street (the historic headquarters of the largest domestic slave trade operation in the United States), a traveling fine art Hip Hop exhibition called "The Culture", and a traveling art installation called "Society's Cage" that brings national awareness to the history of anti-Black racialized state violence in the United States.
Dr. Edmund T. Gordon is the founding (former) chair of the African and African Diaspora Studies Department, Associate Professor of African and African Diaspora Studies and Anthropology of the African Diaspora, and Executive Director of the Contextualization and Commemoration Initiative at The University of Texas at Austin. Dr. Gordon also formerly served as Vice Provost for Diversity, as Associate Vice President of Thematic Initiatives and Community Engagement of the Division of Diversity and Community Engagement, and as Director of the Center for African and African American Studies at The University of Texas. His teaching and research interests include: culture and power in the African Diaspora, gender studies (particularly Black males), critical race theory, race education, and the racial economy of space and resources. His publications include Disparate Diasporas: Identity and Politics in an African-Nicaraguan Community, 1998 UT Press. Dr. Gordon received his Doctorate in Social Anthropology from Stanford University and his Master's of Arts from Stanford University in Anthropology and Master's degree in Marine Sciences from the University of Miami.
_________________________