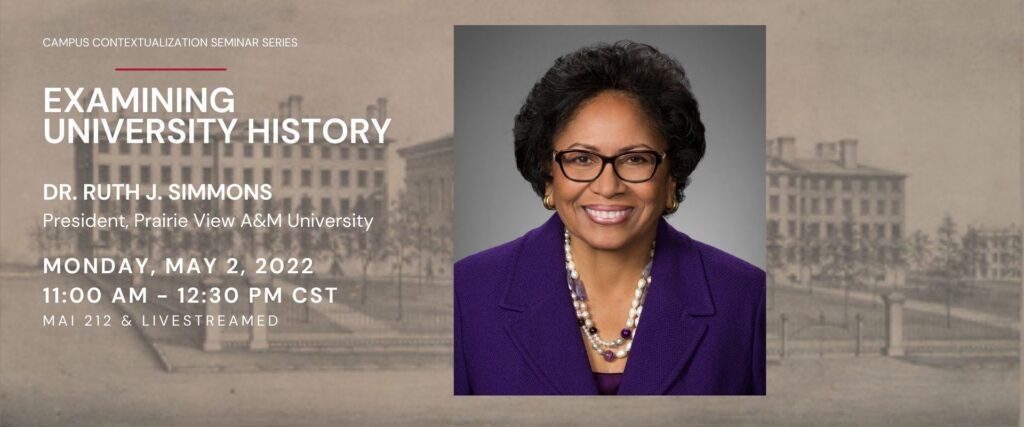 Held May 2, 2022 — watch event video here:
Examining University History
Ruth J. Simmons, PhD
Dr. Ruth J. Simmons, who currently serves as President of Prairie View A&M University and was President of Brown University from 2001-2012, spoke at UT on May 2. Cited as an inspiration for initiatives such as Harvard University's report on the legacy of slavery at that institution – announced in April 2022 and accompanied by a $100 million endowed fund to continue studying the issue – Pres. Simmons was the first Black President of an Ivy League university. Widely acknowledged as a leader in higher education efforts to engage university communities in ongoing investigations of their histories, in 2004 she created Brown's Committee on Slavery and Justice to "investigate and discuss an uncomfortable piece of the University's — and our nation's — history. The Committee's work is not about whether or how reparations should be paid. Rather, it will do the difficult work of scholarship, debate and civil discourse, demonstrating how difficult, uncomfortable and valuable this process can be." Dr. Simmons shared her experience with that effort, established to involve the Brown campus community in "discovery of the meaning" of its past, and discussed ways in which universities have approached these issues across the country.
Under her leadership, Brown made significant strides in improving its standing as one of the world's finest research universities. A French professor before entering university administration, President Simmons held an appointment as a Professor of Comparative Literature and Africana Studies at Brown. After completing her PhD in Romance Languages and Literatures at Harvard, she served in various faculty and administrative roles at the University of Southern California, Princeton University, and Spelman College before becoming president of Smith College, the largest women's college in the United States. At Smith, she launched a number of important academic initiatives, including an engineering program, the first at an American women's college. Simmons is the recipient of many honors, including a Fulbright Fellowship to France, the 2001 President's Award from the United Negro College Fund, the 2002 Fulbright Lifetime Achievement Medal, the 2004 Eleanor Roosevelt Val-Kill Medal, the Foreign Policy Association Medal, the Ellis Island Medal of Honor, and the Centennial Medal from Harvard University. She is a member of the National Academy of Arts and Sciences, the American Philosophical Society, and the Council on Foreign Relations, and serves on the boards of the Houston Museum of Fine Arts, the Smithsonian National Museum of African American History and Culture, and the Holdsworth Center. Awarded numerous honorary degrees, she received the Brown Faculty's highest honor: the Susan Colver Rosenberger Medal in 2011. In 2012, she was named a 'chevalier' of the French Legion of Honor.
_________________________
The Campus Contextualization Seminar series explores histories of race, gender, and power at The University of Texas at Austin. Speakers present research and new frameworks for analysis concerning the ways in which US universities continue to address historic exclusion and inequalities and serve as key sites for engendering equity, inclusion, and social change.