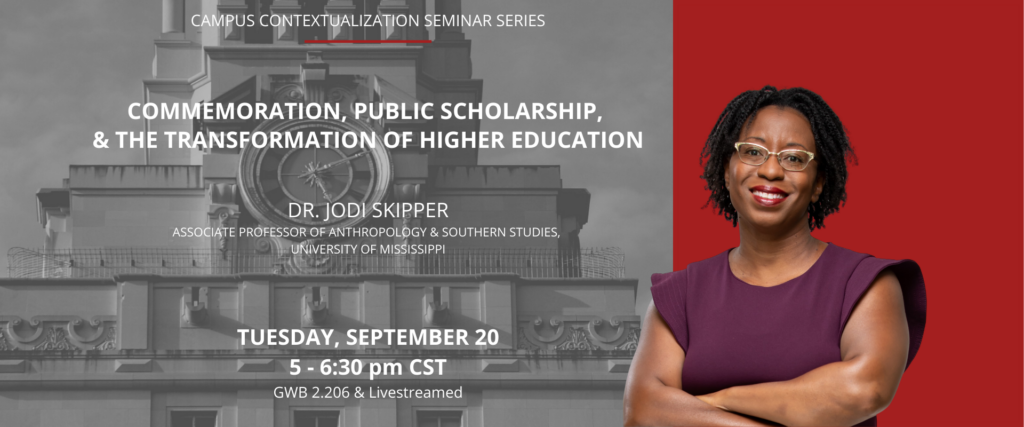 Held September 20, 2022 — watch event video here:
Commemoration, Public Scholarship, & the Transformation of Higher Education
Jodi Skipper, PhD
Dr. Jodi Skipper, Associate Professor of Anthropology & Southern Studies at the University of Mississippi, spoke at UT on September 20.
Academic public scholarship on race and racism is often left out of recent higher education institution calls for diversity, equity, and inclusion initiatives. As a public scholar who integrates community-engagement with research, teaching, and scholarship, Dr. Skipper situates that work in recent debates about university-community partnerships and the potential reach of public-facing academic work. Her talk argued that public scholarship and community engagement are central to revitalizing and transforming higher education institutions in the 21st century.
Dr. Skipper received her BA in history from Grambling State University, where she began to develop an interest in African diaspora archaeology. She went on to receive her MA at Florida State University and her PhD in Anthropology, with a focus on historical archaeology, at The University of Texas at Austin. Her dissertation investigated the application of public archaeology and other methods of historic preservation at the historic St. Paul United Methodist Church community in the Arts District of Dallas, Texas. As a graduate student, she worked for several private and federal cultural resource management institutions, including the National Park Service. Dr. Skipper later accepted a postdoctoral fellowship at the University of South Carolina Institute for Southern Studies and then joined the faculty at the University of Mississippi in 2011.
_________________________
CCI's Campus Contextualization Seminar series explores histories of race, gender, and power at The University of Texas at Austin. Speakers present research and new frameworks for analysis concerning the ways in which US universities continue to address these issues.