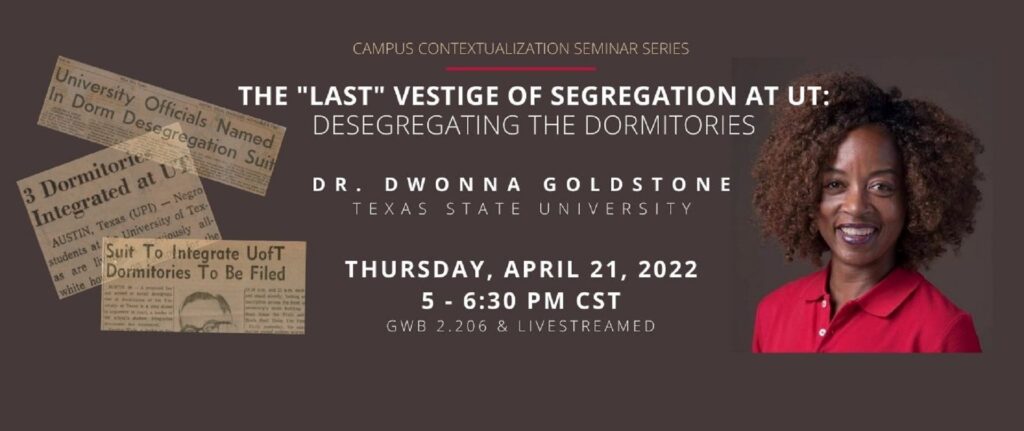 Held April 21, 2022 — watch event video here:
The "Last" Vestige of Segregation at UT: Desegregating the Dormitories
Dr. Dwonna Naomi Goldstone, Associate Professor of History and Director of the African American Studies program at Texas State University, spoke on April 21. In August 1960, Sherryl Griffin, a graduate of segregated Worthing High School in Houston, arrived on The University of Texas campus to study journalism. "UT had the best journalism program in Texas," she said, "and even though I could have gotten an excellent education at Spelman College or Texas Southern, I never wanted White people to later question my credentials as a journalist since I was attending their school." Griffin had to live in Whitis Hall, one of two segregated housing facilities available for Black female students on the UT campus. Those dorms—and Barracks D and F, where some Black men lived—were hardly "separate but equal." In November 1961, Sherryl Griffin, Leroy Sanders, and Maudie Ates filed suit against The University of Texas to force the school to desegregate their dormitories.
Dr. Goldstone grew up in Moline, Illinois (home of the John Deere Tractor) and earned her BA in American Studies with a minor in African American Studies from the University of Iowa. She received her MAT in Secondary English Education at Brown University and taught high school English and coached 9th-grade girls' basketball prior to earning her PhD in American Civilization from the University of Texas at Austin. Her book, Integrating the 40 Acres: The Fifty-Year Struggle for Racial Equality at the University of Texas at Austin, won the 2005 Coral H. Tullis Memorial Prize for the best book on Texas history. When she is not teaching or writing, Dr. Goldstone trains for half marathons, does CrossFit, watches Judge Judy, and walks her four dogs—Lena Horne, Ernie Banks, Ralph Ellison, and Hank Aaron. She is also active with an organization that teaches incarcerated men at Dominguez State Jail.
_________________________
The new Campus Contextualization Seminar series explores histories of race, gender, and power at The University of Texas at Austin. Speakers present research and new frameworks for analysis concerning the ways in which US universities continue to these issues.