September: Remembering Julius Whittier
This month in UT History recognizes the life and achievements of The University of Texas alumnus Julius Whittier. He is best known as the first Black player to letter in football at UT. Due to NCAA regulations he was limited to playing on the freshman team in 1969. Whittier began practicing with the varsity in August of 1970 and played his first varsity game on September 19, 1970 during his sophomore year. He went on to letter in UT football for three years. In 2020, UT commemorated Whittier's contributions to the institution by erecting a statue of him at the main entrance to the Darrell K. Royal Memorial Stadium (DKR). As the Fall 2022 academic year and football season begin, it is important to recall the influence and legacy that Whittier left at the University.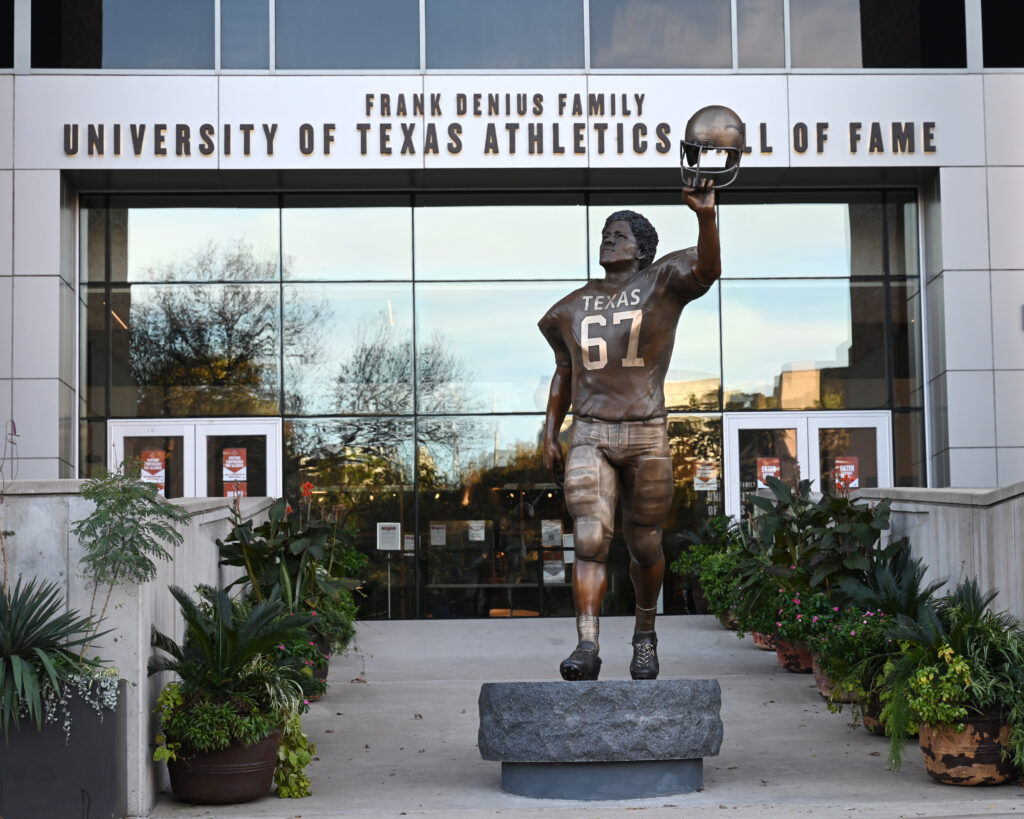 UT Athletics erected the statue as part of its commemoration of the 50th Anniversary of the UT Longhorns 1970 National Championship on which Whittier played.[1] The statue was also a University response to demands by student-athletes made in the context of the 2020 racial reckoning following the killings of George Floyd, Breonna Taylor, Rayshard Brooks, and others.[2] That spring, in a petition signed by over 19,000 persons, UT students and others asked The University of Texas to come to terms with its racial past in ways that would make the institution more inclusive for all students. In an unprecedented show of activism, UT's student-athletes joined this movement adding demands that were specific to their experiences at the University. Specifically, they sought: "More diversity in The [FDF UT Athletics] Hall of Fame to include: [a] Permanent black athletic history exhibit. The UT Athletics Department to donate 0.5% of their annual earnings to Black organizations and the BLM movement. The renaming of an area of the [DKR Memorial] stadium after Julius Whittier, the first Black football player. … Lifting the requirement of athletes to sing [the Eyes of Texas]."[3]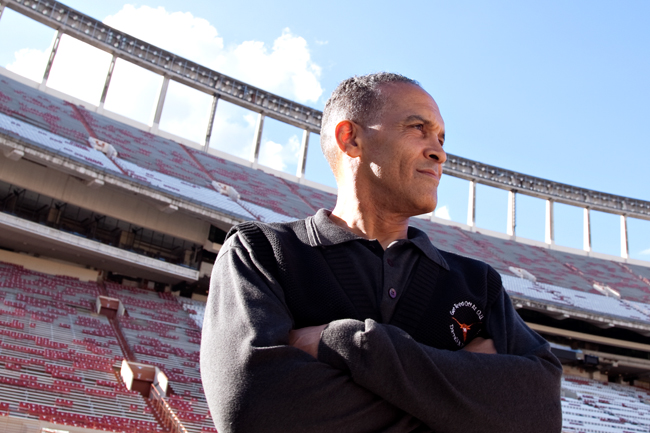 Along with the Whittier statue, the University renamed the football field after UT Heisman trophy winners Earl Campbell and Ricky Williams. They also promised to make resources available to support causes championed by the student-athletes. Additionally, in response to the students' discomfort with the history of the University's spirit song, "The Eyes of Texas," University leadership removed the requirement for student-athletes to sing it.[4] Finally, the athletics department spearheaded the idea of placing a statue of Whittier at the stadium entrance rather than naming an area of DKR stadium after him.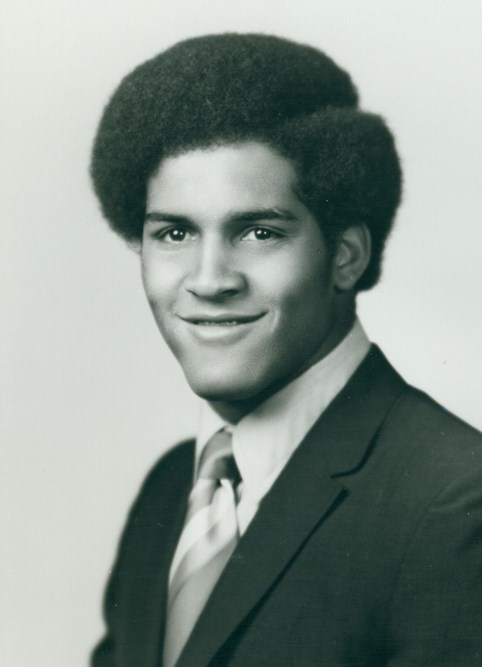 Julius Whittier was the son of a doctor and school teacher and a member of an extended family of civil rights activists.[5] A gifted student, he was also an extraordinary athlete. In high school, Whittier was the star quarterback.[6] Black quarterbacks were rare at predominantly white institutions (PWIs) in the early 1970s. Accordingly, at The University of Texas, Whittier played offensive tackle and tight end. He was an integral part of championship teams — National Championship in 1970 and the South West Conference from 1970–1972. The statue of Whittier portrays him in his football uniform, helmet held high in triumph. He is an important figure in the school's history, desegregating the fabled Longhorns, breaking the racial barrier at the University, and becoming the precursor for many of UT's most prominent Black stars such as Earl Campbell, Roosevelt Leaks, Ricky Williams, and Vince Young. This status is the main reason UT chose to honor him. However, Whittier's achievements beyond the gridiron were meaningful and often overlooked.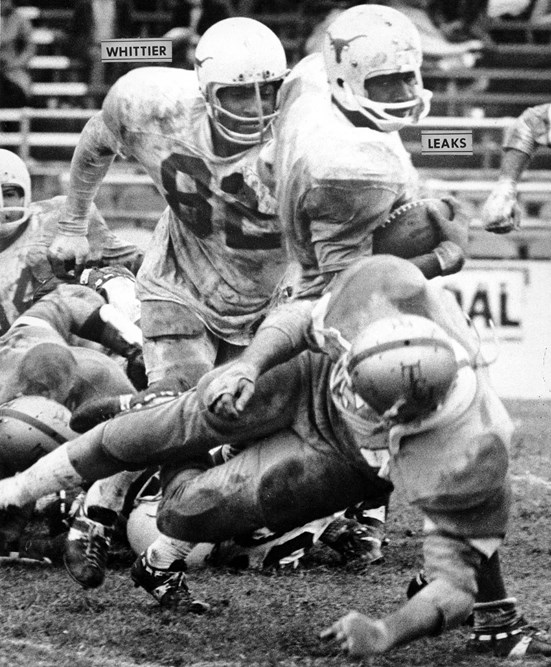 Whittier entered The University of Texas in 1969 as a philosophy major. After graduating in 1974 with his undergraduate degree, former President Lyndon B. Johnson convinced Whittier to consider a graduate degree from the LBJ School of Public Affairs. Whittier remembered that "the President told me specifically that he would enjoy knowing that I had at least examined the program at the [LBJ] school."[7] Following this presidential recommendation, Whittier pursued a Master's degree from UT's LBJ School. After his graduation in 1976, Whittier left Texas to work for the Office of the Mayor of Boston. He returned to Texas to pursue a law degree from UT, which he received in 1980. After graduating from UT Law, Whittier moved to Dallas where he worked for The Office of the District Attorney in Dallas County as a prosecutor.
He was diagnosed with Alzheimer's disease and retired from his position at the District Attorney's office in 2012. He died in 2018 at the age of 68. An autopsy proved what he and his family had suspected that he was suffering from Chronic Traumatic Encephalopathy (CTE) – a "brain degeneration likely caused by repeated head traumas."[8] Whittier filed a class-action suit against the National Collegiate Athletic Association (NCAA) in 2014.[9] His family sued the NCAA in 2020 seeking damages, and lobbied for changes that would keep future athletes safe.[10] The case is still pending.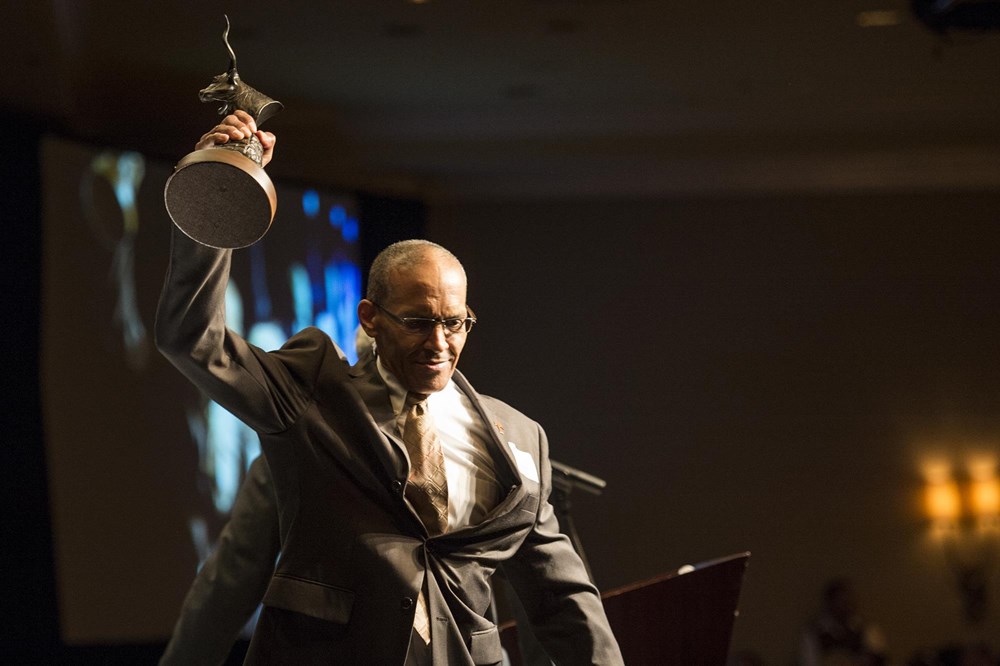 Julius Whittier left behind an important legacy worthy of commemoration on our campus. He was an outstanding and pioneering athlete. Moreover, as his sister Mildred Whittier claimed about him, "He was a good soul, a brilliant guy, a philosopher who thought deeply and cared for people and loved God. … He was more than his football days. Texas gave him the opportunity to grow and become an even bigger and smarter guy."[11] Julius Whittier's example of well-rounded intellectual and athletic brilliance, dedication, consummate professionalism, and humility is a model for all of us at UT.
---
[1] "Longhorn Trailblazer Julius Whittier's statue unveiled," Texassports.com, November 26, 2002. https://texassports.com/news/2020/11/26/football-longhorn-trailblazer-julius-whittiers-statue-to-be-unveiled-friday.aspx
[2] "UT Austin Takes Step Toward Reckoning With Racist Past, But 'Eyes of Texas' Will Stay, " Kut.org, July 13, 2020. https://www.kut.org/education/2020-07-13/ut-austin-takes-step-toward-reckoning-with-racist-past-but-eyes-of-texas-will-stay
[3] Zach Barnett, "Texas Athletes Release List of Demands for Campus Changes," Footballscoop. Accessed July 31, 2022. https://footballscoop.com/news/texas-athletes-release-list-of-demands-for-campus-changes.
[4] However, upon the hiring of new football head coach Steve Sarkisian in the fall of 2020, he proclaimed that his players would sing. See "Steve Sarkisian Says Longhorns Will Sing 'The Eyes of Texas,' The Washington Post online, Accessed July 31, 2022. https://www.washingtonpost.com/sports/2021/01/13/steve-sarkisian-the-eyes-of-texas/.
[5] David Barron, "Julius Whitterier: 1950-2018; UT Trailblazer Leaves His Mark on Social Justice; Longhorns' First Black Football Letterman Went on to Become Assistant District Attorney." Houston Chronicle, September 28, 2018, C001.
[6] Associated Press, "Julius Whittier Dies at 68; Broke a Race Barrier in Football," The New York Times online, September 28, 2018. https://www.nytimes.com/2018/09/28/obituaries/julius-whittier-dies-at-68-broke-a-race-barrier-in-football.html
[7] LBJ School of Public Affairs, "Texas Athletics to Unveil Julius Whittier Statue on Friday," Accessed July 21, 2022. https://lbj.utexas.edu/texas-athletics-unveil-julius-whittier-statue-friday.
[8] "Chronic Traumatic Encephalopathy," Mayoclinic.org, Accessed July 22, 2022. https://www.mayoclinic.org/diseases-conditions/chronic-traumatic-encephalopathy/symptoms-causes/syc-20370921
[9] Matt Fitzgerald, "Former Football Player Julius Whittier Filed $50 Million Lawsuit vs. NCAA," The Bleacher Report.com, October 28, 2014. Accehttps://bleacherreport.com/articles/2248179-former-texas-football-player-julius-whittier-files-50-million-lawsuit-vs-ncaa
[10] Jessica Rizzo, J.D. Candidate, Kimberly L. Sachs, Esq., and Dylan F. Henry, Esq., "New Bellwether Cases Against NCAA Move Forward In Texas | Sports Litigation Alert," Sports Litigation Alert, Accessed July 29, 2022. https://sportslitigationalert.com/new-bellwether-cases-against-ncaa-move-forward-in-texas/.
[11] David Barron, "Julius Whitter: 1950-2018; UT Trailblazer Leaves His Mark on Social Justice; Longhorns' First Black Football Letterman Went on to Become Assistant District Attorney," Houston Chronicle, September 28, 2018, C001.