January: Martin Luther King, Jr. Day
This year marks the 40th anniversary of the first celebration of Martin Luther King, Jr. (MLK) Day at The University of Texas at Austin. On November 2, 1983, after much controversy, President Ronald Reagan signed the bill that established MLK Day as a federal holiday. Though the holiday celebrates Dr. King's January 15, 1929 birthday, it is observed annually on the third Monday of January, which falls on January 16 this year. The first national celebration of MLK Day occurred in 1986, eighteen years after King's 1968 assassination.[1] It took another five years and additional debate before Texas Governor Anne Richards signed a bill on June 11, 1991, making MLK Day a state holiday. In 1983, the African-American Culture Committee (AACC) of The University of Texas's University Unions organized the first such commemoration on campus.[2][3] Since 1995, The Austin Area Heritage Council, which sponsors programming that strives to represent and celebrate diversity in Austin, has organized the annual MLK Day celebrations at the university.
The University of Texas's relationship with the person and ideas of Martin Luther King, Jr. predates and exceeds the annual recognition of his birthday on our campus. In 1962, Dr. King visited the University to speak to members of the UT community about race relations in the US. He spoke in the Texas Union Building's Ballroom to a crowd of almost 1,200 people and was forced to spend a night on campus after his reservation at Austin's Driskill Hotel was canceled over fears that the other hotel patrons would not be happy with his presence there.[4] In 1968, as an outcome of such racist sentiments, the renowned civil rights leader was assassinated in Memphis while leading a protest in support of a sanitation workers' strike.[5]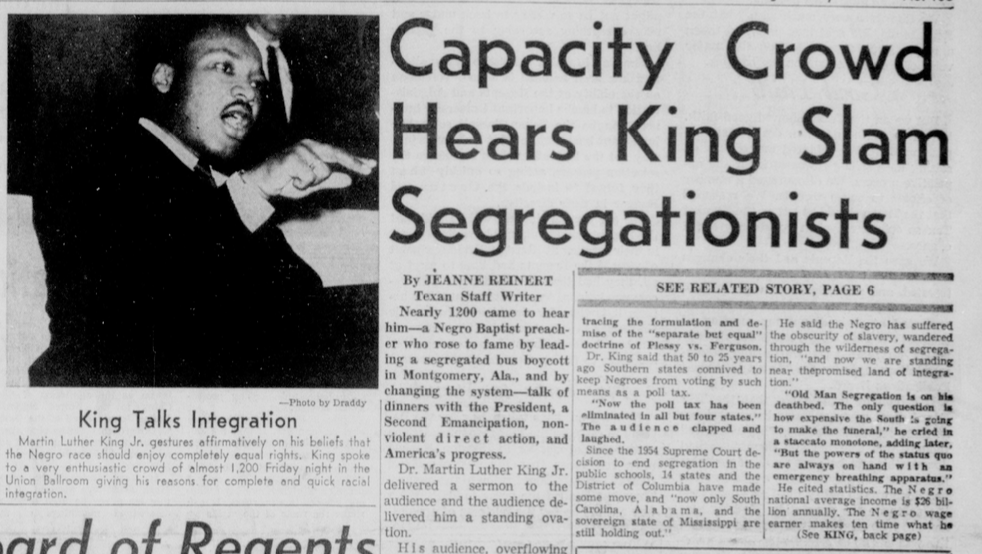 Nineteen year later, in 1987, students at UT lobbied to have a statue of MLK placed on the University's campus. The students formed the Martin Luther King Jr. Sculpture Foundation and approached UT President William Cunningham in hopes of securing funding for the statue. Cunningham provided $150,000 for the construction of a marble pedestal, but tasked members of the foundation with securing funding for the statue themselves. In 1995, the Martin Luther King Jr. Sculpture Foundation worked with the UT Student Government to secure a commitment of a $1 contribution from every UT student's tuition payment for each semester over four years, eventually raising $500,000 for the project. In 1999, the University placed the MLK Statue, sculpted by Chicago-based sculptors Jeffrey Varilla and Anna Koh-Varilla, on the campus' East Mall. UT was the second university in the United States to feature a statue of Dr. King, preceded only by his alma mater, Morehouse University.[6]
While there were high levels of UT student support for the creation of the MLK statue, not every member of the university and/or larger Austin community agreed with its being placed on campus. In the early 2000s, the statue was defaced twice, once when eggs were thrown at it and the other when two men sprayed graffiti on it. It has not been vandalized in the years since, as the University has worked to become a more inclusive place.
Today, The University of Texas is working to transform its East Mall, where Dr. King's statue has stood for over two decades, into a commemorative site honoring the Black students who integrated UT's undergraduate student body in 1956. The MLK statue is a fitting centerpiece for this celebration of the university's historic arc of inclusivity and the institution's efforts to fulfill its aspirations to be the flagship of higher education for all Texans.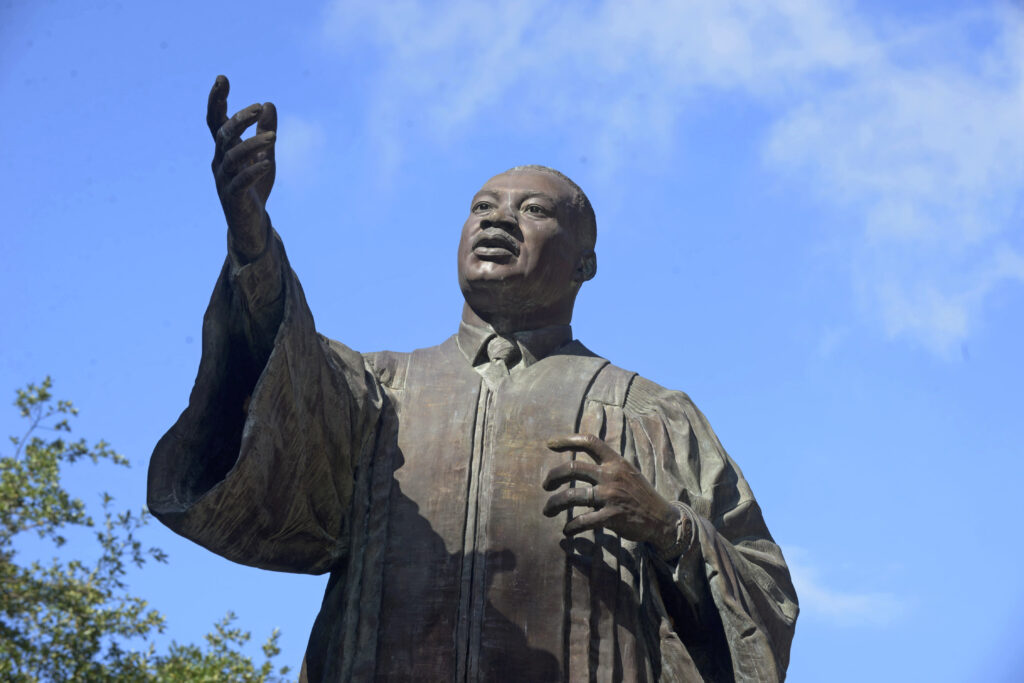 ---
[1] Council, Austin Area Heritage. "Timeline | MLK Celebration – Austin, TX," November 12, 2008. https://mlkcelebration.com/mlk-the-man/timeline/.
[2] Council, Austin Area Heritage. "Heritage Council | MLK Celebration – Austin, TX," November 12, 2008. https://mlkcelebration.com/heritage-council/.
[3] Council, Austin Area Heritage. "March, Festival, and Food Drive | MLK Celebration – Austin, TX," December 29, 2009. https://mlkcelebration.com/celebration-events/march-and-festival/.
[4] kvue.com. "Display Highlights Martin Luther King Jr.'s 1962 Visit to UT." Accessed December 13, 2022. https://www.kvue.com/article/news/history/display-highlights-martin-luther-king-jrs-1962-visit-to-ut/269-535182613.
[5] NobelPrize.org. "The Nobel Peace Prize 1964." Accessed January 10, 2023. https://www.nobelprize.org/prizes/peace/1964/king/biographical/.
[6] The Alcalde. "How the MLK Statue Came to the East Mall," February 2, 2012. https://alcalde.texasexes.org/2012/02/mlk-on-the-east-mall/.